Myvegan clear protein powder has been one of the most popular ranges since its launch in 2020. This is no surprise; these clear protein powders were the first of their kind, and has had some amazing flavour collaborations including Swizzels drumstick and refresher flavours! Two years later, the clear vegan protein range has launched some seriously good new powders with a boost of added health benefits.
Clear Vegan Protein Plus Digestion
With the excellent macro ratios you would expect from this range, this powder has the additional benefit of kombucha and probiotics. It also contains an energy boost in the form of black tea extracts.
Why is this important?
Protein powders can cause stomach upset in some people however, the addition of kombucha and probiotics help to support digestion. The bacillus coagulans found in this powder are a form of 'good bacteria', also known as probiotics. These help to populate the gut and not aid digestion of the protein, but also give the gut an overall boost, aiding digestion in a more general way. The addition of kombucha provides a further boost, as kombucha is a prebiotic. Prebiotics help to feed and nourish the existing good bacteria. Prebiotics not only help with digestion but also support the immune system – our gut bacteria play a surprisingly important role in immune health!
Clear Vegan Protein Plus Energy
Post-workout it can sometimes be a toss-up between a coffee and a protein shake. This powder eliminates that choice, containing both caffeine and protein to support you post-workout.
Why is this important?
One serving of this powder contains 15g of vegan pea protein and 90mg natural caffeine. A regular sized mug of instant coffee contains around 60-70mg of caffeine; these protein powders not only top this, but also contain more natural sources of caffeine in the form of green coffee powder and green coffee bean extract. This caffeine boost can help to support energy and aid focus and productivity. Paired with protein for muscle support, this powder should help fuel you throughout the day.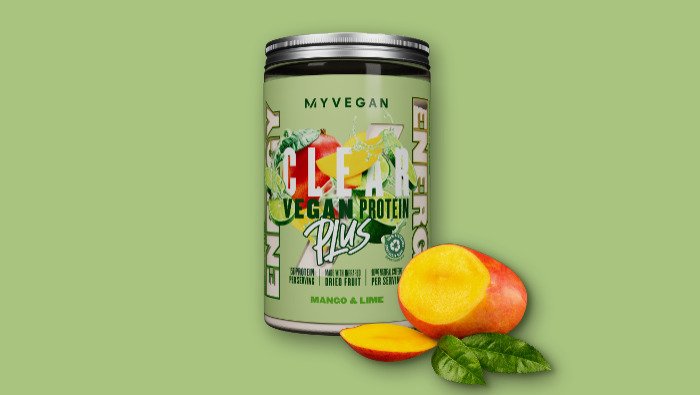 Clear Vegan Protein Plus Immunity
It is well-known that vitamin C plays a role in the immune system, and many people use this as a supplement throughout the winter months, or when coming down with a cold. This powder contains both vitamin C and zinc alongside 15g protein and no added sugars.
Why is this important?
Over the last few years, the importance of a good immune system has been well highlighted. Vitamin C is an antioxidant and helps to support the immune system by reducing the damage caused by 'free radicals'. Free radicals include toxins such as stress, pollutants, smoking, and highly processed foods. This protein powder contains organic acerola cherry juice, which is high in both vitamin C and polyphenols (another type of anxtioxidant). Furthermore, the addition of zinc helps to support the absorption of vitamin C and can also help to mediate inflammatory cells within the immune system.
In summary…
Available in a variety of flavours, this new range by Myvegan contains some pretty awesome additional benefits. These are available for a limited time only, so grab one while you can!