Spice up your lunches with this heart-warming vegan curry recipe.
---
This is a go-to vegan curry recipe for those who love a comforting bowl of healthy, spiced goodness.
Red lentils are a fantastic food to cook with as they are a great source of plant-based protein and fibre, as well as being rich in essential nutrients such as B vitamins, iron, potassium and zinc.
The blend of turmeric, cumin, curry powder, cloves and garlic mean this dish is packed full of flavour.
You can even make your own naan breads to go with it. These mini naans only need four ingredients, so you can guarantee they will be vegan-friendly and free of any preservatives. Plus, if you have any leftover ingredients from the dahl, you could create your own garlic and coriander naans by sprinkling some of these in the dough before frying.
One-Pot Lentil Dahl & Homemade Naan Recipe
Makes 4
Ingredients
For the lentil dahl:
2 tbsp. coconut oil
1 onion (chopped)
1-inch piece ginger (grated)
3 garlic cloves (crushed)
1.5 tbsp. turmeric
1.5 tbsp. cumin
1.5 tbsp. medium curry powder
300g red lentils (washed)
1 tin chopped tomatoes
1.2L vegetable stock
Coriander to serve
For the homemade naan:
200g plain flour
¼ tsp. salt
2 tsp. baking powder
250g plain dairy-free yoghurt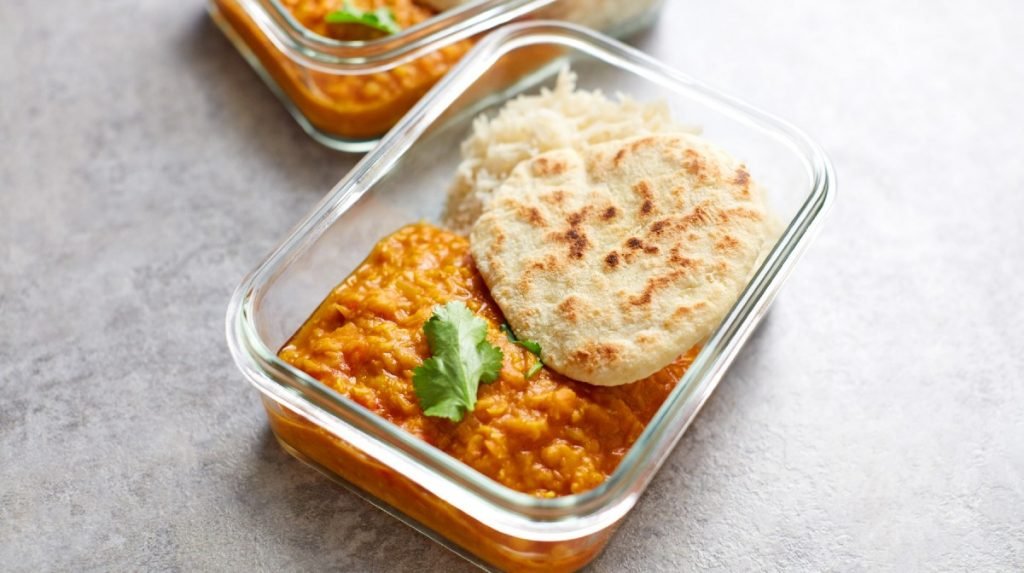 Method
First, add the coconut oil to a large saucepan on a medium heat. Once melted, add the onion, ginger and garlic, and fry for 3-4 minutes, stirring occasionally.
Next, prepare the stock in a separate bowl or jug by dissolving a stock cube in 1200ml boiling water.
Add the turmeric, cumin and curry powder to the frying pan and fry for an additional minute.
Stir in the lentils until well combined with the other ingredients then add the tomatoes. Mix well.
Now carefully pour in the stock and gently stir it in so it is mixed well with the rest of the ingredients. Lower the heat, place the lid on the pan and leave to simmer for 30 minutes.
While waiting, you can prepare your naans. Add the flour, salt, baking powder and plant-based yoghurt to a bowl and mix to form a thick dough.
Lightly dust a kitchen surface with flour and use your hands to knead and combine the dough into a ball. Cut the ball into equal sections — we have made 8 to create mini naans, but quarters would work for 4 big ones.
Shape each section of dough into a flat disc shape and then place them into a frying pan over medium heat, one at a time. Fry for a couple of minutes on each side –  you should see it slowly rise and brown.
Once your one-pot lentil dahl has cooked, give it a good stir and serve with some coriander to garnish and your fresh naan on the side.
Nutritional info per serving:
| | | |
| --- | --- | --- |
| | Lentil Dahl | Naan |
| Calories | 191 | 144 |
| Carbs | 14.3g | 19.2g |
| Protein | 8.5g | 3.1g |
| Fat | 9g | 5.4g |
For another delicious lentil lunch idea, try out these Lentil Falafel Burgers: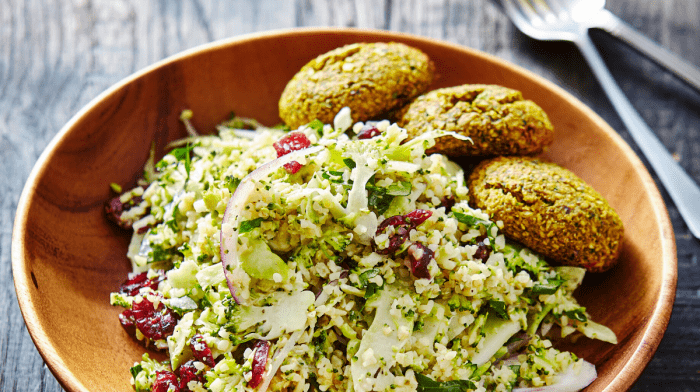 Head Chef of Ampéli Restaurant, Oren Goldfeld, shares his recipes for falafel burgers, a bulgar wheat salad, and a peanut butter dressing to go with it.